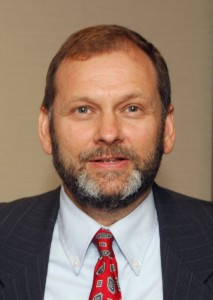 Biographical Information for Dr. Ed Holliday
Dr. Holliday was born in Ripley, Mississippi. He lived the first three years of his life in Northern Tippah County not far from the Tennessee state line in a town called Chalybeate. At age four his father was elected to the position of County Superintendent of Education and his family moved to Ripley. Ed has three brothers and one sister, Bob, John Mark, Lisa, and Harry. The Holliday family went to the Ripley public schools and participated in many community activities. Ed was active in the boy scouts, the 4-H Club, and sports at Ripley High School. Through the 4-H Club Ed became familiar with Mississippi State University campus where so many 4-H events were held and had the opportunity through 4-H to travel across the country during his high school years. In 1979 he was one of two students selected from Mississippi to the William Randolph Hearst U.S. Senate Youth Program.
Dr. Holliday graduated Ripley High School in 1979. He attended Northeast Mississippi Community College in Booneville for 2 years and then completed his undergraduate education on the Ole Miss Oxford campus. He graduated Ole Miss in 1983 with a B.A. degree majoring in Biology and English. He received his dental degree in 1987 from the University of Mississippi School of Dentistry. After graduation he backpacked throughout Europe to better understand history and the world. Later in 1987 he began his dental career working for Dr. Verlon Hughes, a Bay Springs dentist in Jasper County. Later Dr. Holliday returned home to work for Dr. Norris Howell in Ripley. He practiced dentistry in Ripley until he met the love of his life, Leslie Jarvis. They were married and soon moved to Tupelo. Dr. Holliday started his own dental practice in Tupelo in 1992, and continues to practice general dentistry.
Dr. Holliday has been a firm believer in contributing to his community. He has been a member of Lee County's Community Development Foundation for 23 years. He has been a volunteer dentist for Lee County's Good Samaritan Free Clinic since 1992. Holliday has served as the volunteer dental director for the free clinic for the past several years. Dr. Holliday is a member of the Tupelo Dental Society and the Mississippi Dental Association where he is Chairman of the Council on Dental Health and past Peer Review Chairman for his district. He is also a member of the American Dental Association, the Academy of General Dentistry, and the Pierre Fauchard Academy. Dr. Holliday also worked with other dentists to bring the Mission of Mercy project to Mississippi to provide hundreds of thousands of dollars of free dentistry to Mississippians in need of free dental care. Dr. Holliday has also done international dental missionary work in Mexico, Honduras, and Guatemala.
Dr. Holliday has served as the co-chair of the Tupelo/Lee County chapter of Mission Mississippi for the past 7 years. Mission Mississippi is a statewide Christian organization that actively works to bring denominational and racial unity among Mississippians by providing opportunities to build relationships. Holliday worships with his family at Harrisburg Baptist Church in Tupelo where he has been actively involved in many of its ministries, including teaching Sunday School classes, working with the youth and children ministries, and participating in its mission efforts. Holliday has been actively involved with churches throughout his life as a member at the First Baptist Church in Ripley, the First Baptist Church in Jackson, the Bay Springs Baptist Church, and now at Harrisburg Baptist Church.
Leslie and Ed have four wonderful children Peyton (17), Edison (14), Graham (12), and Perrin (10). Leslie is the daughter of Sue Jarvis and the late Morris Jarvis from Union County. Ed's parents are Troy and Mildred Holliday and still live in Ripley. His parents are life long educators and his father, Troy, still serves on several boards including the state Headstart Board, Region III Mental Health Board, and has served over 50 years on the Northeast Mississippi Community College Board.
In addition to practicing dentistry, Ed hosts an Internet Radio show called Doc Holliday's Rock Splitting Politics and has authored three books and has had his essays placed in other books. He has written for magazines and websites about conservative politics and has actively pursued promoting conservative ideas on the local, state, and national levels. He has worked with the National Organization for Marriage that protects marriage as being one man married to one woman. He has worked for pro-life causes through assisting his friend Dr. Alveda King, the niece of Dr. Martin Luther King, Jr. He and Dr. King are authoring a book together that will be available in the fall of 2015 about the non-negotiable principles on which conservatives must stand strong. Dr. Holliday has worked with the Coalition of African American Pastors on the national stage and has traveled to Washington, D.C. many times to support conservative values.
On Doc Holliday's Rock Splitting Politics he has had exclusive answers from notable political experts like Governor Mike Huckabee, Fox News contributor George Will, Speaker Newt Gingrich, former U.S. Senator and Presidential candidate Rick Santorum, the late Congressman Alan Nunnelee, U.S. Senators Roger Wicker and Thad Cochran. Doc Holliday has interviewed the freedom-loving Cuban born father of Sen. Ted Cruz, Rafael Cruz, and has brought international concerns to his listeners by delving into many of the world's political turmoil hot spots. To better understand the Palestinian/Israeli conflict he has had interviews with the past mayor of Shiloh, Israel, David Ruben, and an exclusive interview with a Palestinian on the streets of Jerusalem. Doc Holliday brings a unique perspective to his radio show that defends our Second Amendment rights with guests like Larry Pratt from Gun Owners of America and defending our constitution with the conservative icon Phyllis Schlafly. Doc Holliday mixes his show format to provide his listeners with information and insights that they will not get anywhere else. From national defense to taxes and regulations his show covers a wide range of topics affecting everyday Americans across the country. He does have some international listeners but most reside within the U.S. His show is heard on http://webtalkradio.net/internet-talk-radio/rock-splitting-politics/ that is based in Chicago.
Holliday hosts a website www.docholliday.org where you can purchase his books and find links to his Internet radio show and other outlets of interest. Doc Holliday pursues excellence in all his endeavors and learns from his many interests and friendships. Though Doc Holliday promotes conservative values he has many friends from the liberal political spectrum and cherishes friendships that help him better understand how to make this place a better world for all. Faith, country, and family keep Doc Holliday energized to wake up each morning to see what God has in store for the day. Little hinges can swing open great big doors, and as Doc Holliday keeps this in mind, he hopes you will, too!